It is always a relief when a tow company comes to pick up your disabled vehicle during a roadside emergency. But what happens if you need to get home and you have no one to call? You should know beforehand whether or not the tow truck driver can drive you home after they have towed your car. If so, this is going to be much more convenient for you. So, can a tow truck driver take you home?
When do you call a towing company?
On average, you would call a tow truck driver when your vehicle cannot be driven because of some damage or mechanical failure. If this happens to you and you have no one that can come help you, this makes calling a tow truck the best option.
What happens when your vehicle is getting towed?
For a vehicle to be towed, it means it is no longer in a state that allows you to drive it. This might happen after an accident or when you run out of gas. When a tow truck arrives to get your car, they will take it to their shop for repairs. The only thing is that you'll need a ride to take you where you were going or get back home. Unfortunately, tow truck companies don't allow their customers to ride in the disabled vehicle during towing. This is because of safety reasons so that no one gets hurt.
Can a tow truck driver drive me home after they've towed my car?
Yes! In most cases, tow truck drivers will gladly give you a lift if you need it, but it's important to ask before towing your car. Note that it is not always possible for the tow truck company to take you back home as, depending on the situation, there may be limitations. For instance, if there is only room for a single passenger in the tow truck and you are traveling as a group, hitching a ride on the truck can be a little cumbersome. Also, if you are being picked up in a rural area, the driver may not be able to take you all the way to your city or town. However, if there is room for additional passengers and no other constraints on timing, don't hesitate to request service!
Another thing to remember is that in light of the Covid-19 pandemic, most tow truck operators are choosing not to offer their customers a ride back home. This is because of the risk that an infected person might need transportation to their original destination. If you do not feel comfortable getting a ride from them, it's best if you find another means while your car gets towed.
How do I know if they'll drive me home?
If you're not sure whether or not the tow truck driver will take you home, you should ask them before getting your vehicle towed. If they accept to give you a ride, it will be much more convenient for you. However, if they say no without any alternatives to get back home safely, then calling someone is your best option for getting a ride or finding another means of transport. You can look online and read reviews on roadside assistance providers near you and visit their websites so that you know what kind of services are offered before making a decision.
How do I get a ride home after a tow?
This is understandable since the vehicle needs to be towed, but it's still inconvenient for those who need rides home from work or school. If you need this kind of service, try calling your local taxi company as soon as possible. The best option is to have a family member or friend pick you up.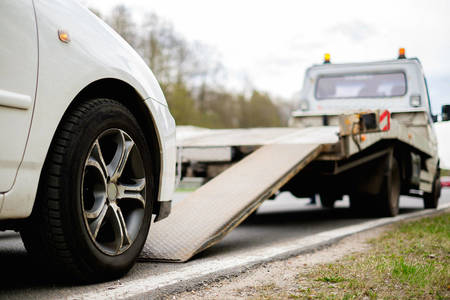 Will I pay for the ride if a tow truck takes me home?
If you are given a ride in the tow truck, they will usually not charge you extra. This is because it's still considered part of the customer service, and they want you to get back home safely after the tow. Always be sure to double-check with your tow service provider just in case!
Is it safe to ride with a towing company?
It's up to you to decide whether or not you feel comfortable getting a ride from your tow truck driver. Tow truck drivers are often willing to be accommodating and want to help. It's often up to you to decide the best option for yourself.
Speeds Towing Has You Covered!
Whenever you need a tow truck or emergency roadside assistance services, Speeds Towing is available to help! We are a reputable emergency tow truck Clackamas company with over a decade of experience in the industry. Our team is licensed, insured, and bonded, so you can be sure that your needs will be met to your fullest satisfaction. Just give us a call, and we'll respond with urgency.